Welcome the Deity
At eight o'clock in the evening on the last day of the eighth lunar month, the Taoist priest led the members of the Kew Ong Yah Temple Committee and believers to the river to welcome the Holy Emperor of the Nine Emperors.
Welcoming the Nine Emperors are the statues of Patriarch Qingshui and Marshal Tiandu.

The commitee member worshiped the statues and prepared to greet the Nine Emperors.

An altar to welcome the Nine Emperor Gods.
Everyone held incense and knelt down to welcome the Nine Emperors.
The Nine Emperor Incense Burner is burning brightly, symbolizing the arrival of the gods. People held up the Nine Emperor Incense Burners with cigarette smoke curling up high, and excitedly chanted the holy name of the "Nine Emperors".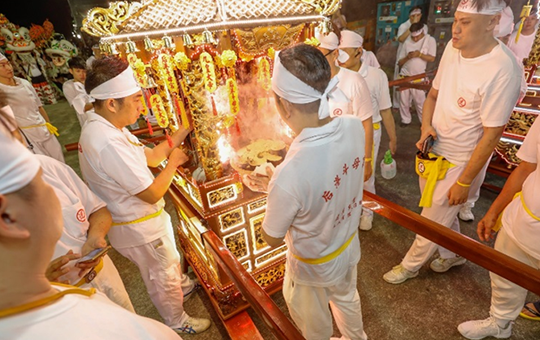 The Nine Emperor Incense Burner is placed inside the sedan.

Welcome the return of the God team. The believers waiting in the temple and the actors on the stage knelt down holding incense to greet the Nine Emperor Incense Burner.