Inspection Tour
The "Nine Emperors Tour" is an exchange of visits between Nine Emperor Gods temples, and it is also an act used by the Nine Emperor Gods belief circle to expand its scope and strengthen contacts. During the nine-day celebration, other temples dedicated to the Nine Emperor Gods continued to visit Doumu Palace. They brought dragon and lion dance teams, big-headed doll performances, gong and drum teams, ji children and so on. Every time a patrol team arrives, members of the Doumu Palace Committee will line up to warmly welcome them, and then hold a ceremony to exchange flowers, fruits and incense ashes.

The Nine Emperors tour of Dou Mu Temple in Hougang was scheduled for the fourth day of the ninth lunar month. From 2 p.m. to midnight, a total of twelve temples were visited, and more than ten buses carried pilgrims. There are also gongs and drums troupes and ten floats following the parade.

The dragon and lion troupe and the big-headed baby performed.

The procession visited other temples.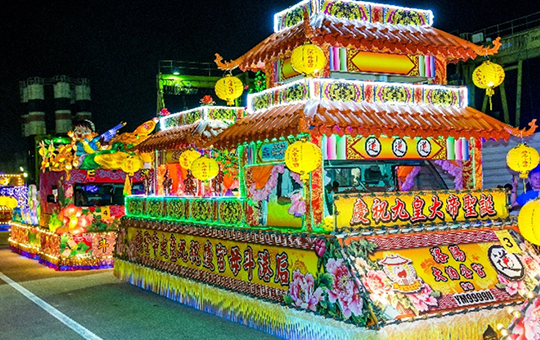 Floats and the spectacular Nine Emperor Lanterns.
Head of the formation: the head of the officer.
Head of the formation: eight generals.