The Octagonal Tower
Traditional Chinese temples usually have another smaller hall behind the Main Hall to enshrine the main deities, but the Kew Ong Yah Temple, which was built based on the courtyard layout, does not have this smaller hall. Instead, the main deities, i.e. the Nine Emperor Gods, are enshrined in a two-storey octagonal annex tower to the back of the Main Hall.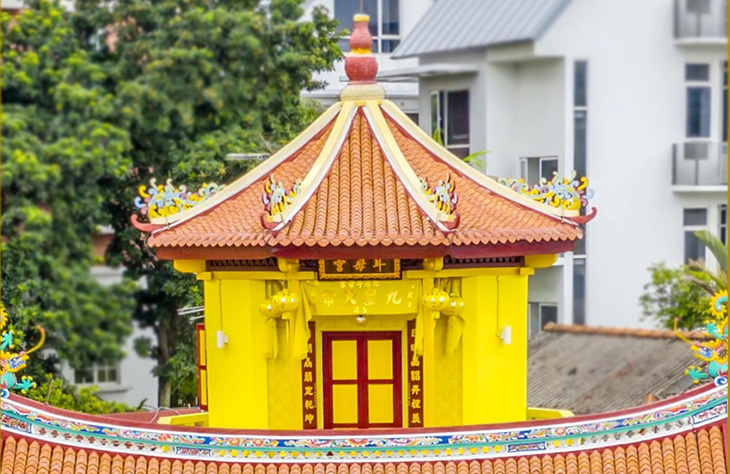 The only entrances are the metal grill doors that are hidden behind the sides of the main altar. The doors are locked on normal days. During the festivals, committee members will unlock the door, and enter the building to invite the Nine Emperor Gods' urn out of the tower. Only males who practice the Jiuhuang retreat by observing a vegetarian diet, cleansing the body, and wearing white clothes are allowed entry. Females are always prohibited from entering. These traditions and restrictions are still practiced today. Devotees believe that any disrespectful or unclean behaviour would enrage the Nine Emperor Gods, who would condemn the offenders.
At the present moment, the first storey is used for storage. The only way to get to the second storey is via a wooden staircase, whose entrance is guarded by another padlocked door. The second storey is the chamber where the Nine Emperor Gods' tablets and incense urn are securely enshrined. Previously, male devotees received the blessings by the Taoist priests in this chamber during major festivals. As the number of devotees grew, nowadays all the ceremonies are performed on the front yard instead. Today, only temple keepers and selected committee members who practice the Jiuhuang retreat are allowed to enter this chamber. Thus, whatever inside the chamber is now a secret that is kept from the public.

The Kew Ong Yah Temple, as its name suggests, is a temple dedicated to the worship of the Nine Emperor Gods. However, no statues or images of the Nine Emperor Gods can be seen anywhere in the main hall of the temple.
As the leading deities of the temple, where then are the Nine Emperor Gods enshrined? The answer can be found in the Octagonal Tower behind the main hall, where the incense burners of the Nine Emperor Gods are placed.

The Octagonal Tower is out of bounds to the public, and only temple staff can enter it. It is worth noting that the Kew Ong Yah Temple (Upper Serangoon) does not have a single statue or image of the Nine Emperors Gods.
The latter are represented by incense burners for daily worship and even for celebrations. This may be related to the way the secret societies in China operated in the temple.