Welcome Ritual
At Kew Ong Yah Temple, the welcome ritual is held in the evening of the eve of the 8th lunar month. At 8 pm, the Taoist priests would lead the committee members of the Kew Ong Yah Temple and the devotees to the river to welcoming of the Nine Emperor Gods. The Patriarch of the Clear Stream and Marshal Tian would also be there to welcoming back the Nine Emperor Gods.
恭迎九皇圣驾的是清水祖师和田都元帅的神像。

The committee members are holding the statues and ready to leave for the Welcome Ritual.

The altar to welcome the Nine Emperor Gods
Devotees kneel to welcome the Nine Emperor Gods, with joss sticks in their hands.
The urn is raised up high for the devotees to see, and the devotees proceed to shout out the title of the Nine Emperor.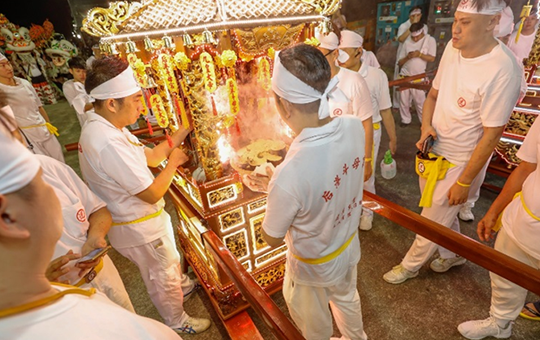 The burning urn is placed back onto the sedan chair to be carried back to the temple.

The procession returns to the temple.